5-Star-Rated Audiologist in Worcester for Hearing Loss Rehabilitation
Take Back Control of Your Life with Hearing Loss Rehabilitation
Hearing loss can be exhausting. If you are one of the many Americans who struggles with hearing loss, then you likely already know how much effort it takes to listen. When you visit our audiologist in Worcester, we do far more than fit you with a hearing aid; we strive to provide you with full hearing loss rehabilitation, so that you can continue to feel rested as you enjoy the sounds of the world around you.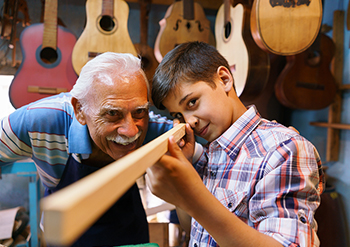 Do You Struggle With These Effects of Hearing Loss?
The most obvious negative effect of hearing loss is the difficulty you have hearing sounds at their typical volume. However, there are numerous other negative impacts that hearing loss can cause. If you struggle with any of the following, our experienced and compassionate audiologists may be able to help you take back control of your life:
Mental fatigue after speaking with someone
Feelings of anxiety, stress, embarrassment, or depression
Avoidance of social gatherings
Reduced interaction with friends or family
Decreased job performance
Impaired memory or forgetfulness
Request Your FREE Hearing Test & Consultation Today With Our 5-Star-Rated Audiologist in Worcester
You don't need to suffer with hearing loss or its side effects! Call our Worcester hearing center to request your complimentary initial hearing test and consultation, and let us show you the incredible advancements that science has made in combating hearing loss.
Come experience Hearing & Brain Centers of New England! You will see for yourself that our audiologist in Worcester provides 5-star-rated hearing care in Worcester, MA, Sturbridge, MA, Leominster, MA, Milford, MA, Shrewsbury, MA, Holden, MA, Paxton, MA, Sterling, MA, Auburn, MA, and Leicester, MA. Your journey to improved hearing begins today!
Schedule Your Free Dr. Darrow Hearing Loss & Tinnitus Treatment Consulation