Invisible Hearing Aids Near Auburn, MA
If you are searching for invisible hearing aids near Auburn, MA, then we have just what you need at Hearing & Brain Centers of New England. Our state-of-the-art hearing solutions are not only virtually invisible, but have also been proven to boost hearing clarity and improve cognitive function.
Today's smallest wireless hearing aids have made it possible for people with hearing loss to get the ultra-compact size they want and the better hearing they need. These tiny devices are custom fitted and positioned deep within the ear canal, making them virtually invisible.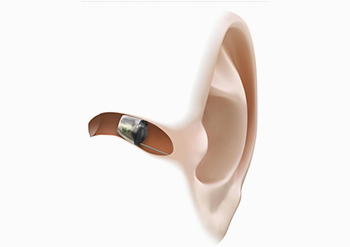 What Are the Benefits of Invisible Hearing Aids from Hearing & Brain Centers of New England?
The benefits of our customized hearing aids are numerous, including:
Extended wear, 24 hours a day, seven days a week
Convenience for daily activities, like showering and sleeping
Comfortably positioned inside the ear canal
Natural sound quality
No interference with wearing glasses or using the telephone
Easy connectivity to your devices, such as your cell phone
Invisible hearing aids come with wireless options custom fitted to your exact needs and unique ear canal shape. Because they rest comfortably deep in your ear, only you will know they are there. Even though your hearing aids are tiny, they come loaded with the very latest, leading technology!
Schedule Your FREE Hearing Consultation Today & Find Out How Our Hearing Doctor & Tinnitus Treatment Near Auburn, MA Can Help You
Call our hearing center today for a complete hearing consultation. We can show you how discreet today's hearing technology can be! Come experience Hearing & Brain Centers of New England – we offer 5-star-rated hearing care with invisible hearing aids near Auburn, MA. We look forward to meeting you!
Schedule Your Free Dr.Darrow Hearing Loss & Tinnitus Treatment Consultation
Click Here to Learn More About Our Invisible Hearing Aid Solutions